The News – 01/28/03
In this Issue:

Recommended Reading

I realize this is the only newsletter you'll ever need, but if you want more in-depth detail, check out:

Stan Hustad's
The Coaching Connection

Management Signature's
The Express Read
I Have This Phone
Regular readers of SNS will recall several short articles of device envy entitled "I Want This Phone." They tend to appear whenever a cool phone is released. Well, finally, after lots of research and consideration, I've bought myself a "3G" phone.
The wireless standard known as 3G means many things to many different carriers, but it's primarily about faster data access and less about voice services or quality. While every major wireless carrier in the US has offered a service they call 3G, I only seriously considered AT&T Wireless, my former provider, and Sprint, because of their coverage.
The move was spurred in part by my eldest son going off to college in an area in which AT&T has spotty coverage. Since he's driving distance away from home, and since my AT&T plan charged me up the wazoo if I roamed off their network, I was spending extra money on cell phone calls. My son already had Sprint and had good coverage. The kicker was Sprint's promotion in December that allowed us to add a new line of service at no charge, share a bunch of minutes, and get unlimited PCS Vision (Internet access) service.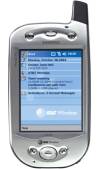 But that wasn't all that went into the decision, by a long shot. There was first the question of cool phones. I've been waiting for two years for AT&T to offer a converged PDA/cell phone combo. They are just now starting to, featuring a Pocket PC-based phone from Siemens. But just try to find this phone on their Web site. It's hard to do. Plus, you can't find it in the stores. That's a pretty bad blunder for the wireless carrier that debuted the first 3G phone service in Seattle in mid-2001.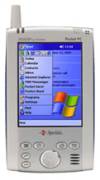 Sprint, on the other hand, has always had cool phones. The non-3G color Samsung Palm phone almost got me to switch when it debuted. The Handspring Treo Palm phone almost got me to switch as well. Now Sprint offers a Toshiba Pocket PC-phone, and it's actually in the stores at a whopping $700. That's too rich for my blood for a device I'm likely to drop or lose.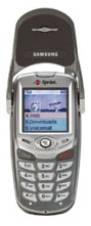 The cool phone I settled on was the Samsung N400. It has a clamshell design (I hate having to lock the keys when I put my older Ericsson in my pocket), a color screen, fast (well, relatively) Internet access, and downloadable ringtones (my main ringer is now the sound of the phone in the old Our Man Flint movies.) The sucker's pretty light and compact, although setting it to vibrate-only mode is a real pain (three buttons and a joystick to turn the volume all the way down.) Hello, people?! Users often want to mute their ringers quickly!
Sprint also doesn't provide an adequate user manual with the phone, and the downloadable one from their Web site is not a whole lot better. For example, the phone has a GPS function, which when you turn it on, other designated Sprint users can find out where you are (911 operators can always find you regardless of the setting). OK, Sprint. How the hell do I designate the users who can see where I am? And why doesn't your site have a search function for anything besides retail stores?
But it wasn't only the promotion or the rate plan or the cool phone that made me decide to abandon AT&T. It was also my belief, after lots of research, that the CDMA standard, which is supported by Sprint, Verizon and others, will ultimately deliver faster wireless data access than will TDMA/GSM schemes like AT&T, Cingular and T-Mobile (formerly Voicestream) use.
Without getting too much into the technical details – but still using way too many acronyms – here's the story, briefly.
AT&T established a US network based on a technology known as TDMA – Time Division Multiple Access. A variant of this technology, GSM (Global System for Mobile communications) has become the standard worldwide, except for the Americas and parts of Asia. The problem with both standards it that they never were designed to do data. Because of this, in order to offer data services, AT&T and others in the US turned to something called CDPD (Cellular Digital Packet Data), a low-speed (19.2Kbps – in your dreams!) data standard. Adding this to their 2G (digital) network created Web access on cell phones, also known as 2.5G.
GSM, on the other hand, developed a migration path to faster data services called GPRS (General Packet Radio Services). This offered a stopgap, but only the most generous would call it a 3G service. Nonetheless, AT&T converted its network – at great expense – to GSM and GPRS and called it 3G. But in reality, GSM services need to go through a few more transitions – to something called EDGE (Enhanced Data rates for Global Evolution) and then to WCDMA (Wideband Code Division Multiple Access) – before finally getting to true 3G services.
Sprint, on the other hand, is on a migration path to an incompatible standard (standards, you gotta love 'em) called CDMA2000. According to an article on 3G.co.uk, "The cost of adopting WCDMA is considerably greater than the cost to migrate to CDMA2000 for Sprint PCS. Additionally, CDMA2000 from Sprint PCS will be available much sooner than WCDMA." And, here's the kicker: CDMA2000 will be faster than the competing WCDMA when all is said and done. There are a number of additional advantages of CDMA2000 such as reduced battery usage and increased voice capacity.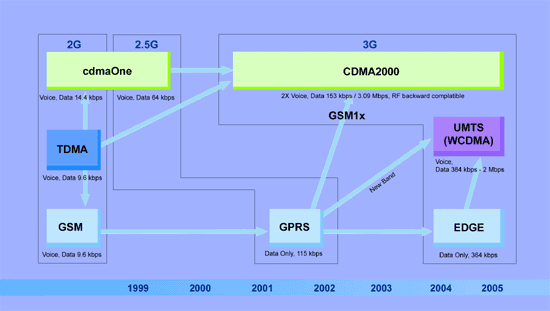 This somewhat confusing chart shows where we'll end up in a couple of years, although, given the moribund state of the telecom industry, those might be dog years. The GSM networks have a migration path to CDMA2000, but the more likely one is to EDGE and then to UMTS/WCDMA. Note that this latter standard tops out at 2Mbps, whereas CDMA2000 should deliver 50 percent more bandwidth: 3.09Mbps. Plus, it is far more likely that the various CDMA2000 transitions will be backward-compatible, which could be important for buyers of large numbers of cell phones.
So that's the deal. I switched because I believed AT&T had backed the wrong horse and was running up massive debt converting their network. I believed the speed of their current implementation is inferior to the speed of Sprint's, and that means they are less likely to attract the revenue necessary to support that debt burden. The company itself is reinforcing this perception. At a recent mobile Internet conference in Paris, France, AT&T said it didn't see much demand yet for "true" 3G services (with throughput up to 2M bit/sec). According to an article in Network Fusion, "Since then, the carrier has cut its initial 3G deployment schedule for 2004 from 13 cities to highly populated areas of four U.S. markets. But it has launched Wi-Fi hot spot services in five U.S. airports."
Although I initially held out great hope for NTT DoCoMo's investment in AT&T Wireless and the US implementation of the DoCoMo system (called mlife here), I think ultimately AT&T will fade. Of course, Sprint's not in great shape either; there's hardly a wireless provider who is.
My advice to corporate buyers who may be contemplating converged devices? Wait until at least mid-year when the Microsoft Smart Phones are released in force. The Pocket PC platform has progressed to the point that it is just beginning to be feasible to eschew a laptop and go with a phone/Pocket PC combination. The devices can do email (with attachments), connect via 802.11b (Wi-Fi) wireless LANs, and even connect to projectors to do PowerPoint presentations. Although these capabilities are available in Palm-based PDAs, especially the Clié from Sony, the ability to use the familiar MS Office applications on the PDA is likely to be a key decision factor.
Briefly Noted
Shameless Self-Promotion Dept.: I repurposed and adapted an article about the wireless service known as Short Messaging Service (SMS) for the Reside newsletter. It's entitled, Wherever they go, there you are and it points out how marketers can use – carefully – this new way to contact their customers.

I'm featured in Manyworlds' Thought Leader Showcase, which lists a few of the white papers I've done.

Finally, the CTOMentor wireless white paper, You Can Take It with You: Business Applications of Personal Wireless Devices, is available at ITPapers.



Simon Delivers An Outage

:

I've written

before

about local Minneapolis online grocer Simon Delivers, a company who is taking a practical approach to the market: Grow small and profitably. Well, they just took a real step backward a couple of weeks ago when their Web site went down for a couple of days.

The company blamed their hosting provider and the failure of a backup of a backup. Companies with critical Web operations can learn some things from this debacle. First, examine your Service Level Agreement (SLA) and make sure the remedies for lapses in service are in line with the hit your company will take. Most SLAs specify that you'll get free hosting if the site goes down. Tell that to Simon Delivers, who lost thousands of dollars, and perhaps a few customers, to the outage.

Second, develop a disaster recover or business continuity plan. Such a plan may specify maintaining a warm or hot site that mirrors your own and can take over at a moment's notice. Third, once you have a plan, exercise it. While it is always possible to have the backups of your backups fail, I suspect there was some systemic problem with the way Simon Delivers' site was being backed up. Conducting a simulated outage drill may have uncovered that. If you want more advice on business continuity, give StratVantage a call.

StarTribune