Be on the wave or under it™
The News – 03/15/02
In this Issue:

Recommended Reading

I realize this is the only newsletter you'll ever need, but if you want more in-depth detail, check out:

Stan Hustad's The Coaching Connection
I've got such a collection of interesting and important material that hasn't found its way into SNS yet that I have to clean house. Here's the best of what I've got.
Bruce Schneier's Recommendations: OK, I promised myself I'd lay off Microsoft on the security issue, and here's the second item in this newsletter about it. Well, it's only to report the sage advice of renowned security expert Bruce Schneier of Counterpane. Here's what Bruce thinks the monopoly should do:

Office: Macros should not be stored in Office documents. Macros should be stored separately, as templates, which should not be openable as documents. The programs should provide a visual interface that walks the user through what the macros do, and should provide limitations of what macros not signed by a corporate IT department can do.
Internet Explorer: IE should support a complete separation of data and control. Java and JavaScript should be modified so they cannot use external programs in arbitrary ways. ActiveX should eliminate all controls that are marked "safe for scripting."
E-mail: E-mail applications should not support scripting. (At the very least, they should stop supporting it by default.) E-mail scripts should be attached as a separate MIME attachment. There should be limitations on what macros not signed by a corporate IT department can do.
.NET: .NET should have a clear delineation of what can act and what cannot. The security community has learned a lot about mobile code security from Java. Mobile code is very dangerous, but it's here to stay. For mobile code to survive, it should be redesigned with security as a primary feature.
Implementation of Microsoft SOAP, a protocol running over HTTP precisely so it could bypass firewalls, should be withdrawn.
There. That was constructive, wasn't it? Microsoft says they're serious about security, so I can't imagine why they wouldn't seriously consider Schneier's advice.
Crypto-Gram
EU Plans to Tax Internet Sales: Well, it had to happen: Some jurisdiction was bound to tax Net sales sooner or later. Looks like it's sooner. Last month, the European Union Council of economic and finance ministers approved a European Commission proposal that levies a value-added tax (VAT) on digital products delivered online, including computer games and software, as well as radio or television broadcasting.

What's worse, non-EU companies will have to calculate and collect the tax, making eCommerce suddenly a lot more complicated. US Treasury officials hate the tax and are threatening to take up the matter with the World Trade Organization.
News.com

Briefly Noted
Shameless Self-Promotion Dept.: Take our survey on corporate policies on home use of network resources.

StratVantage has launched a new service, CTOMentor™, designed to allow Chief Technology Officers and other technical leaders to get rid of the Guilt Stack, that pile of magazines you'll get around to reading someday.

CTOMentor is a subscription advisory service tailored to customers' industry and personal information needs. Four times a year CTOMentor provides a four-hour briefing for subscribers and their staffs on the most important emerging technology trends that could affect their businesses. As part of the service, subscribers also get a weekly email newsletter, Just the Right Stuff™, containing links to the Top 10 Must Read articles needed to stay current. These and other CTOMentor services will let you

Burn

Your Inbox™.

As part of its launch, CTOMentor is offering a two-part white paper on peer-to-peer technology: Peer-to-Peer Computing and Business Networks: More Than Meets the Ear. Part 1, What is P2P?, is available for free on the CTOMentor Web site. Part 2, How Are Businesses Using P2P?, is available for $50.
CTOMentor



Return to Mike's Take


Copyright © 2000-2008, StratVantage Consulting, LLC. All rights reserved.
Please send all comments to
.

Looking to light up your office, your business, or your city?
The WiMAX Guys™ can help you easily provide secure wireless Internet to your customers.

The WiMAX Guys specialize in designing and running wireless networks. We're experienced, we're quick, and we won't cost you an arm and a leg. Give us a call today provide your users a wireless Internet experience tomorrow.
Call Mike Ellsworth
Head Guy
952-400-0185
www.TheWiMAXGuys.com
---
Alert SNS Reader Hall of Fame
---
About The Author

---
Announcing CTOMentor, a New Service from StratVantage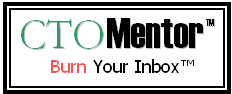 ---
Can't Get Enough of ME?
In the unlikely event that you want more of my opinions, I've started a Weblog. It's the fashionable thing for pundits to do, and I'm doing it too. A Weblog is a datestamped collection of somewhat random thoughts and ideas assembled on a Web page. If you'd like to subject the world to your thoughts, as I do, you can create your own Weblog. You need to have a Web site that allows you FTP access, and the free software from www.blogger.com. This allows you to right click on a Web page and append your pithy thoughts to your Weblog.
I've dubbed my Weblog entries "Stratlets", and they are available at www.stratvantage.com/stratlets/. Let me know what you think.

Also check out the TrendSpot for ranking of the latest emerging trends.
---
In Memoriam
Gerald M. Ellsworth
March 14, 1928 - July 5, 2003
In Memoriam
Jane C. Ellsworth
July 20, 1928 - July 20, 2003