Be on the wave or under it™
The News – 03/15/04
In this Issue:

Recommended Reading

I realize this is the only newsletter you'll ever need, but if you want more in-depth detail, check out:

Stan Hustad's
The Coaching Connection

Management Signature's
The Express Read
Past Their Expiration Date
Needless to say, things have been very busy here at StratVantage Central, what with starting up a new company and all. Now that The WiMAX Guys has installed wireless hotspots for its first big client, the Grand Hotel Minneapolis, I've got to clear out these old links before they get too moldy. Don't worry, there's always something new to write about. I've got another 40 some pages of great stuff to sort through with more shipments coming every day.
Older Workers

In

Demand: Renee Ward, founder of seniors4hire, a Web placement organization specializing in the plus 50 set, says, "Older workers are intelligent, experienced, flexible, and they have the soft skills needed to blend in well at a new company." Ward says younger workers often have bad attitudes and of course they lack the significant experience of older workers. Kinda makes you proud to be a boomer, even though I really hate it when people call us "aging boomers." We're all aging, aren't we? As Dylan said, "He who is not busy being born, is busy dying."

The good news for all unemployed workers comes from the Department of Labor, which estimates that 26 million Americans will retire from the current 147 million person labor force by 2008 and 4.6 million jobs will go unfilled.
News.com


Who's

Spying

On You?

Spyware

is software that runs undetected on your computer and sends information to the Internet. Sometimes Spyware merely compromises your privacy. Sometimes it steals your passwords and credit card numbers. This article gives a good overview. If you want to protect yourself from spyware, get Spybot, which has the loveliest click through agreement I've ever seen.
News.com
Return to Mike's Take


Copyright © 2000-2008, StratVantage Consulting, LLC. All rights reserved.
Please send all comments to
.

Looking to light up your office, your business, or your city?
The WiMAX Guys™ can help you easily provide secure wireless Internet to your customers.

The WiMAX Guys specialize in designing and running wireless networks. We're experienced, we're quick, and we won't cost you an arm and a leg. Give us a call today provide your users a wireless Internet experience tomorrow.
Call Mike Ellsworth
Head Guy
952-400-0185
www.TheWiMAXGuys.com
---
Alert SNS Reader Hall of Fame
---
About The Author

---
Announcing CTOMentor, a New Service from StratVantage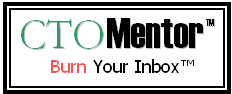 ---
Can't Get Enough of ME?
In the unlikely event that you want more of my opinions, I've started a Weblog. It's the fashionable thing for pundits to do, and I'm doing it too. A Weblog is a datestamped collection of somewhat random thoughts and ideas assembled on a Web page. If you'd like to subject the world to your thoughts, as I do, you can create your own Weblog. You need to have a Web site that allows you FTP access, and the free software from www.blogger.com. This allows you to right click on a Web page and append your pithy thoughts to your Weblog.
I've dubbed my Weblog entries "Stratlets", and they are available at www.stratvantage.com/stratlets/. Let me know what you think.

Also check out the TrendSpot for ranking of the latest emerging trends.
---
In Memoriam
Gerald M. Ellsworth
March 14, 1928 - July 5, 2003
In Memoriam
Jane C. Ellsworth
July 20, 1928 - July 20, 2003