Be on the wave or under it™
CJB.net is an URL redirection service that sent users to a page hosted at AOL. The page asked the user to enter credit card number and other personal information so that eBay could cancel the order. Obviously, eBay was not involved in this scam, but, oddly, Harry Caray's Chicago-area restaurants were, albeit unknowingly. For some reason, after users submitted the information, they were sent to a page on Harry Caray's restaurants site that simply said, "Your order has been canceled."

Newsbytes
http://www.stratvantage.com/news/mikestake.htm
This issue can be found at:
http://www.stratvantage.com/news/031902.htm
Return to Mike's Take


Copyright © 2000-2008, StratVantage Consulting, LLC. All rights reserved.
Please send all comments to
.

Looking to light up your office, your business, or your city?
The WiMAX Guys™ can help you easily provide secure wireless Internet to your customers.

The WiMAX Guys specialize in designing and running wireless networks. We're experienced, we're quick, and we won't cost you an arm and a leg. Give us a call today provide your users a wireless Internet experience tomorrow.
Call Mike Ellsworth
Head Guy
952-400-0185
www.TheWiMAXGuys.com
---
Alert SNS Reader Hall of Fame
---
About The Author

---
Announcing CTOMentor, a New Service from StratVantage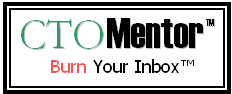 ---
Can't Get Enough of ME?
In the unlikely event that you want more of my opinions, I've started a Weblog. It's the fashionable thing for pundits to do, and I'm doing it too. A Weblog is a datestamped collection of somewhat random thoughts and ideas assembled on a Web page. If you'd like to subject the world to your thoughts, as I do, you can create your own Weblog. You need to have a Web site that allows you FTP access, and the free software from www.blogger.com. This allows you to right click on a Web page and append your pithy thoughts to your Weblog.
I've dubbed my Weblog entries "Stratlets", and they are available at www.stratvantage.com/stratlets/. Let me know what you think.

Also check out the TrendSpot for ranking of the latest emerging trends.
---
In Memoriam
Gerald M. Ellsworth
March 14, 1928 - July 5, 2003
In Memoriam
Jane C. Ellsworth
July 20, 1928 - July 20, 2003