The News – 07/12/06
In this Issue:
Can Fixed Wireless Broadband Return from the Dead?
High speed broadband wireless service has been a dream since late last century. The promise, as yet unrealized, is to bypass the last-mile gatekeepers – phone companies and TV cable companies – and deliver fast Internet access directly to the premises – homes and business – without digging trenches or laying cable.
So why don't you have this option to compete with the high-priced DSL and cable services that may (or, then again, may not) be available in your area? Because over the last several years, many have tried and many have failed to deliver a wireless broadband alternative.
Nowadays, we hear a lot about metropolitan Wi-Fi networks in San Francisco, Philadelphia, Minneapolis, even tiny Chaska, MN, but Wi-Fi was never designed to cover more than a few hundred feet per radio, so costs of this type of solution are high and building penetration is problematic.
That's why a technology called Local Multipoint Distribution Service (LMDS) was designed. LMDS typically uses licensed frequencies, so it can have much greater broadcasting power than Wi-Fi, which is restricted to low-power because it uses unlicensed frequencies.
Hardly a new technology, we've seen LMDS before, behaving badly. In fact, around the turn of the century (and the burst of the bubble), the companies attempting to do broadband wireless over licensed frequencies pretty much all failed. LMDS companies Teligent, Winstar Communications and Advanced Radio Telecom all filed bankruptcy in 2001. San Diego-based LMDS vendor Ensemble Communications closed its doors two years ago.
The dismal performance of LMDS companies makes it hard for me to understand why XO, an Internet Service Provider (ISP) and Competitive Local Exchange Carrier (CLEC) that has mostly righted itself after years of struggles, would propose giving up its wireline business and bet its future on LMDS.
A while ago, XO had announced the sale of its wireline business to Elk Associates LLC and was planning to become a wireless broadband company.
This didn't make a lot of sense to me since XO is primarily in the business of selling local and long distance voice, dedicated Internet access, private networking, and data transport over wires. Why would they give all that up to create a subsidiary, XO LMDS Holdings, to go after the wireless broadband market? XO's unit will operate under the Nextlink brand, XO's former corporate name, and claims it is one of the country's largest owners of fixed wireless spectrum covering more than 70 metropolitan markets providing wireless broadband services to businesses, wireless service providers and other carriers.
In April, however, XO announced the wireline sale was off, and that their Nextlink service was launching in Dallas, Los Angeles, Miami, San Diego, Tampa and Washington, DC.
One their claims, however, seems a bit at odds with reality: "Nextlink will fill a critical gap for customers that require higher speed broadband access but are constrained by the limitations of copper and fiber. Last-mile copper connections do not scale to meet high bandwidth demands, while fiber is too costly and time-consuming to deploy, or simply not available." They further claim, "For locations up to seven miles and in line-of-sight of a Nextlink wireless hub, Nextlink provides wireless broadband services with speeds from 1.544 Mbps (T-1) up to 622 Mbps (OC-12)."
Well, you can certainly get high speed copper – known as T-1s and DS3s (28 T1s - 44.7mbps) and OC-12s, so what's Nextlink talking about? Turns out, they're really talking price. According to PhonePlus magazine, a T-1 averages $200 per megabit per month. In contrast, the wholesale price for XO's 20Mbps wireless connection is about $1,000 per month, or $50 per megabit. Wow. Sign me up.
As a contrast, I have an Earthlink/TimeWarner cable connection that gives me 6Mbps download speeds for $45/month or about 13 cents per megabit. Upload is a pokey 384Kbps, though, and a large business may need a symmetric connection. Businesses may also need a higher degree of reliability than my solution provides.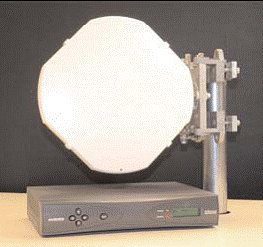 Nevertheless, Earthlink/TimeWarner does offer a business-grade service, and the price point is still better than T-1s or Nextlink. So there are alternatives for business.
I guess the secret sauce must be the equipment Nextlink gets from its vendor, Hughes Network Systems. Yup, just as I thought – it's a huge, hulking antenna that must be mounted externally and able to see the main distribution antenna, plus a big satellite-TV-like receiver. So you need a truck-roll (at cost that averages of from a low of about $50 in rural markets to $300 or more per) to acquire a customer. Well, somehow Dish Network and DirectTV in the satellite TV business have managed to do it.

Perhaps scale will help; XO has LMDS spectrum in the 27GHz - 32GHz range covering 95 percent of the population in the top 30 U.S. cities. And perhaps more-mature equipment will help, but the cost of that gigantor antenna and receiver has got to be pretty high, so going after the consumer market will be problematic. However, Nextlink claims success in securing roof rights from landlords, in most cases, without having to pay a fee or share revenue.
But XO is hardly going to have the fixed broadband market to itself. There are plenty of other competitors, using licensed and unlicensed spectrum. Wireline DSL provider Covad recently snapped up NextWeb, an LMDS operator with 3,000 business customers in California and Nevada, for peanuts ($24.7 million). NextWeb is part of the SkyWeb Alliance, a consortium of NextWeb, Redwire, WestCoast Communications, and NextPhase Wireless that claims to serve 15 counties containing 70 percent of the businesses in California.
Other competitors, using a variety of technologies, include MobilePro, which claims 220,000 mostly Wi-Fi customers, Clearwire, started by cell pioneer and former XO director Craig McCaw, and even Sprint Broadband Direct, which apparently didn't learn its lesson back in 2002, when it essentially exited the broadband wireless business.
All these commercial carriers will face significant competition from a source that would have been off the radar only a few years ago: municipalities. According to the 2005 Municipal Wireless State of the Market Report, US cities, towns and counties will spend nearly $700 million over the next three years to build municipal-owned wireless broadband networks. Most of these networks will not be built on licensed spectrum, but rather using unlicensed-bandwidth technologies like Wi-Fi and WiMAX.
Two good examples of these municipal networks can be found closer to (my) home, in Minneapolis and St. Louis Park, Minnesota. Minneapolis is adopting a private network ownership model (which I dub the "get the sucker vendor to take all the risk" model) and St. Louis Park is exploring the municipal ownership model. The WiMAX Guys partner US Internet is a finalist for the Minneapolis contract, and The WiMAX Guys partner Unplugged Cities is running the pilot project in St. Louis Park.
It is still unclear which of the three primary models for broadband wireless – commercial (with LMDS/MMDS and cell phone-based variants), private/municipal or public/municipal – will prevail. I have a feeling there will be lots of lawyers involved before we find out. But one thing appears to be certain: Wireless Broadband is undergoing a slow resurrection and may yet become a dominant player in the broadband marketplace.

XO
Broadband Wireless Magazine
Georgia wireless efforts


Briefly Noted
Shameless Self-Promotion Dept.: As if I don't have enough Websites, I just released www.YourWhitePaper.com, which, oddly enough, is all about how I can write a technical white paper to help you market your products or services.

I've added a bunch of stuff that didn't make it into SNS to the Raw File, a collection of such tidbits. It's now over half a meg, so I split the page into two parts.

I'm republishing SNS on a couple of other services now, including Gather, and I've changed the StratVantage Stratlets hosting to use Blogspot.

I was interviewed for ManagementFirst's Feature of the Month and got to toot my horn for a bit.

The WiMAX Guys' main business is new installs for people who want to set up wireless hotspots such as hotels, warehouses, apartment buildings, and office buildings or hotzones that cover cities. We also sell a knowledge-based Web portal called the MAX K-Base. Check out our main Website at www.TheWiMAXGuys.com.

The first chapter of my wife's novel, Knowing What You Know Today is up on her Website. The rest of the book costs money – now at a new lower price! – but it's well worth it, believe you me. Check it out at www.debellsworth.com. She's also put up a new site, www.empathysymbol.com to publicize the empathy symbol she designed back in college.
 
Many issues ago I debuted SNS Begware, an opportunity for you, gentle reader, to express your appreciation by tipping your server via PayPal. See the sidebar for more info. Total in the kitty so far: $111.48.

And now that I'm partnered with one of the largest advertisers on the planet, Google, that should be kicking in serious coin to the StratVantage coffers. Let's see. The current total is: $95.50. Great. BTW, I am informed that I can't ask you to read this issue on the Web and click on the ads due to Google's terms of service. So don't. You can, however, shop at Amazon, pay nothing additional, and send a spiff to me.


FISH of the Day: The Forwarded Internet Serial Humor of the Day today comes from Alert SNS Reader Bill Lehnertz of TLC Financial, and it's a twofer.
If Bud Abbott and Lou Costello were alive today, their infamous sketch, "Who's on first?" might have turned out something like this:

COSTELLO CALLS TO BUY A COMPUTER FROM ABBOTT

ABBOTT: Super Duper computer store. Can I help you?

COSTELLO: Thanks. I'm setting up an office in my den and I'm thinking about buying a computer.

ABBOTT: Mac?

COSTELLO: No, the name's Lou.

ABBOTT: Your computer?

COSTELLO: I don't own a computer. I want to buy one.

ABBOTT: Mac?

COSTELLO: I told you, my name's Lou.

ABBOTT: What about Windows?

COSTELLO: Why? Will it get stuffy in here?

ABBOTT: Do you want a computer with Windows?

COSTELLO: I don't know. What will I see when I look at the windows?

ABBOTT: Wallpaper.

COSTELLO: Never mind the windows. I need a computer and software.

ABBOTT: Software for Windows?

COSTELLO: No. On the computer! I need something I can use to write proposals, track expenses and run my business. What do you have?

ABBOTT: Office.

COSTELLO: Yeah, for my office. Can you recommend anything?

ABBOTT: I just did.

COSTELLO: You just did what?

ABBOTT: Recommend something.

COSTELLO: You recommended something?

ABBOTT: Yes.

COSTELLO: For my office?

ABBOTT: Yes.

COSTELLO: OK, what did you recommend for my office?

ABBOTT: Office.

COSTELLO: Yes, for my office!

ABBOTT: I recommend Office with Windows.

COSTELLO: I already have an office with windows! OK, let's just say I'm sitting at my computer and I want to type a proposal. What do I need?

ABBOTT: Word.

COSTELLO: What word?

ABBOTT: Word in Office.

COSTELLO: The only word in office is office.

ABBOTT: The Word in Office for Windows.

COSTELLO: Which word in office for windows?

ABBOTT: The Word you get when you click the blue "W".

COSTELLO: I'm going to click your blue "w" if you don't start with some straight answers, OK, forget that. Can I watch movies on the Internet?

ABBOTT: Yes, you want Real One.

COSTELLO: Maybe a real one, maybe a cartoon. What I watch is none of your business. Just tell me what I need!

ABBOTT: Real One.

COSTELLO: If it's a long movie, I also want to watch reels 2, 3 and 4. Can I watch them?

ABBOTT: Of course.

COSTELLO: Great! With what?

ABBOTT: Real One.

COSTELLO: OK, I'm at my computer and I want to watch a movie. What do I do?

ABBOTT: You click the blue "1".

COSTELLO: I click the blue one what?

ABBOTT: The blue "1".

COSTELLO: Is that different from the blue "w"?

ABBOTT: The blue "1" is Real One and the blue "W" is Word.

COSTELLO: What word?

ABBOTT: The Word in Office for Windows.

COSTELLO: But there are three words in "office for windows"!

ABBOTT: No, just one. But it's the most popular Word in the world.

COSTELLO: It is?

ABBOTT: Yes, but to be fair, there aren't many other Words left. It pretty much wiped out all the other Words out there.

COSTELLO: And that word is real one?

ABBOTT: Real One has nothing to do with Word. Real One isn't even part of Office.

COSTELLO: STOP! Don't start that again. What about financial bookkeeping? You have anything I can track my money with?

ABBOTT: Money.

COSTELLO: That's right. What do you have?

ABBOTT: Money.

COSTELLO: I need money to track my money?

ABBOTT: It comes bundled with your computer.

COSTELLO: What's bundled with my computer?

ABBOTT: Money.

COSTELLO: Money comes with my computer?

ABBOTT: Yes. No extra charge.

COSTELLO: I get a bundle of money with my computer? How much?

ABBOTT: One copy.

COSTELLO: Isn't it illegal to copy money?

ABBOTT: Microsoft gave us a license to copy Money.

COSTELLO: They can give you a license to copy money?

ABBOTT: Why not? THEY OWN IT!

A few days later)

ABBOTT: Super Duper computer store. May I help you?

COSTELLO: How do I turn my computer off?

ABBOTT: Click on "START"...
George:   Condi!  Nice to see you.  What's happening?
Condi:   Sir, I have the report here about the new leader of China .
George:   Great.  Lay it on me.
Condi:   Hu is the new leader of China .
George:   That's what I want to know.
Condi:   That's what I'm telling you.
George:   That's what I'm asking you  Who is the new leader of China ?
Condi:   Yes.
George:   I mean the fellow's name.
Condi:   Hu.
George:   The guy in China .
Condi:   Hu.
George:   The new leader of China .
Condi:   Hu.
George:   The main man in China !
Condi:   Hu is leading China .
George:   Now whaddya' asking me for?
Condi:   I'm telling you, Hu is leading China .
George:   Well, I'm asking you.  Who is leading China ?
Condi:   That's the man's name.
George:   That's who's name?
Condi:   Yes.
George:   Will you, or will you not, tell me the name of the new leader of China ?
Condi:   Yes, sir.
George:   Yassir?  Yassir Arafat is in China ?  I thought he's dead in the Middle East.
Condi:   That's correct.
George:   Then who is in China ?
Condi:   Yes, sir.
George:   Yassir is in China ?
Condi:   No, sir.
George:   Then who is?
Condi:   Yes, sir.
George:   Yassir?
Condi:   No, sir.
George:  Look Condi.  I need to know the name of the new leader of China .  Get me the Secretary General of the U.N. on the phone.
Condi:   Kofi?
George:   No, thanks.
Condi:  You want Kofi?
George:   No.
Condi:   You don't want Kofi.
George:  No.  But now that you mention it, I could use a glass of milk.  And then get me the U.N.
Condi:   Yes, sir.
George:  Not Yassir!  The guy at the U.N.
Condi:  Kofi?
George:  Milk!  Will you please make the call?
Condi:  And call who?
George:  Who is the guy at the U.N?
Condi:   Hu is the guy in China
George:   Will you stay out of China ?!
Condi:   Yes, sir.
George:   And stay out of the Middle East!  Just get me the guy at the U.N.
Condi:  Kofi.
George:  All right!  With cream and two sugars.
Join the Alert SNS Reader Group! You may have heard of a concept called Web 2.0 (or even the more grandiose Web 3.0). Basically it's about adding to Web-based software the kind of interactive and functionality we all take for granted in our installed software. It's a bunch more than that as well; Web 2.0 encompasses other concepts such as Software as a Service (

SaaS

), Web services, and Service Oriented Architecture (SOA). These are all fancy technologies that enable an ordinary person – or at least an ordinary programmer person – to pull together bits of functionality available on the Web to create something new. 

So to demonstrate the power of Web 2.0, I invite you to join the Alert SNS Reader Group.


The Senate Doesn't Get it: Last SNS I prattled on about a topic known as Net Neutrality. What this conflict boils down to is this: large Internet infrastructure providers want to charge more money to businesses that use lots of bandwidth to deliver their products and services. This would establish, in effect, a two-tier Internet: one for you and me to poke along on, and one for the

Googles

, Yahoos,

Netflix

, and

Microsofts

of the world to use.

Right now we have a neutral Internet. Everyone's traffic is delivered on a first-come-first-served basis. So Congress has been debating legislation that would prevent Internet infrastructure providers from charging different users different rates depending on their business use of the Internet. The most promising bill just recently got shot down.

Now in the previous SNS, I was critical of Congress and claimed that they didn't get it. Listen to Chairman of the Senate Commerce Committee, Senator Ted Stevens of Alaska, prattle on in this audio clip and tell me he's a) not completely mad (or, at age 83, a bit senile) and b) he understands the Internet and the Net Neutrality issue.
Public Knowledge


Sick of Email? Well, you're not alone. I came across a great statement about email on writer Neal Stephenson's Website. BTW, you must read his Baroque Cycle books, even if you, like me, hate historical fiction.
I cannot put it any better than Donald Knuth, who writes on his website, "Email is a wonderful thing for people whose role in life is to be on top of things. But not for me; my role is to be on the bottom of things. What I do takes long hours of studying and uninterruptible concentration."
Knuth also provides the following quote from Umberto Eco: "I don't even have an e-mail address. I have reached an age where my main purpose is not to receive messages."