The News – 09/29/05
In this Issue:

Recommended Reading

I realize this is the only newsletter you'll ever need, but if you want more in-depth detail, check out:

Stan Hustad's
The Coaching Connection

Management Signature's
The Express Read
Well, I'm not betting that the latest monopoly to attempt to give you broadband options is going to set the world on fire. Broadband over Power Lines (BPL) has been on the verge for about as long as there's been a broadband verge. What a great concept, though. People talk about making broadband Internet as ubiquitous as power, so who better to bring it to you than the guys who own the power lines going into your home? Unfortunately, it's not quite as easy as it was envisioned.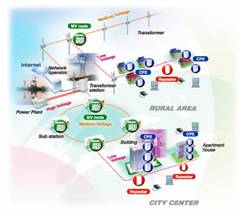 Sure there are plenty of companies that will sell you gear to use the electrical wiring within your house to do networking, but going vast distances through noisy transformers and switches to connect your whole home or business to the Internet is a bit different deal.
And, sure, there may be more than a dozen trials underway in the US as Pyramid Research claims, but, holy brownout, Batman, can you imagine the electric company marketing Internet services to you? I mean, their sales approach for years has consisted of asking folks who call in two questions: "How much do you want?" and "Where do you want it?"

Just because these guys have (or had) several of their own industry associations – the Power Line Communications Association (which doesn't even appear to be in business anymore), the Universal Powerline Association, and the United Power Line Council, doesn't mean they'll suddenly develop the ability to mount sales and marketing efforts in the highly competitive world of Internet broadband, where the options already include offerings from two other monopolies, telcos (DSL) and cablecos (cable broadband), as well as highly sales and marketing-oriented competitors like cellcos (Sprint and Verizon's EV-DO offerings) and upstarts like fixed wireless operators (like the local Twin Cities' Stonebridge and Implex).

Add to that the fact that the technology is facing several hurdles, including complaints from licensed users of radio frequency spectrum and ham radio operators that BPL interferes with their signals. These interference claims have gotten the FCC interested in rulemaking concerning the technology – never a good sign. Ultimately, the FCC approved BPL but will be on the lookout for interference claims.
According to the FCC:
The interference concern regarding BPL operation arises from the fact that electric power lines are not shielded and therefore portions of any RF energy they may carry can be radiated.
Most Access BPL systems that are currently deployed operate in the range from 2 MHz to 50 MHz, with very low-power signals that are spread over a broad range of frequencies. These frequencies are also used by licensed radio services that must be protected from harmful interference under the Commission's Part 15 rules for unlicensed devices. In the radio spectrum below 50 MHz, incumbent authorized radio services include fixed, land mobile, aeronautical mobile, maritime mobile, radiolocation, broadcast radio, amateur radio terrestrial and satellite, and radio-astronomy. Users of this spectrum include, for example, public safety and Federal government agencies, aeronautical navigation licensees, amateur radio operators, international broadcasting stations, and citizens band radio operators.
The deployment of broadband delivery capabilities to provide all Americans with access to affordable high speed Internet and data services is one of the most important challenges currently facing the Commission and the communications industry. [. . . ]
We believe that the widespread introduction of Access BPL service would further our goals for broadband service consistent with the challenges indicated above.
So the FCC decided to allow the development of BPL to go forward, while maintaining its rules prohibiting radio interference by unlicensed carriers. The Hams lose; the big guys win. Hmmmm. (To be fair, the Hams got all up in arms on the basis of very little objective evidence.) The BPL vendors say they will "notch out" the possibly interfering frequencies from their transmissions so everything will be cool.
Indeed, the backing of powerful companies is one of the factors in BPL's favor. The technology is being championed by electrical utilities that have deep pockets and the ears of politicians. Just take a look at the gang of suspects supporting the FCC rulemaking effort:
Ambient Corporation
American Petroleum Institute
AT&T
APCO/NPSTC
the CEA
the CSAA
Cinergy Corp.
the City of Manassas Virginia
Current
Duke Energy
Main.Net Communications
National Rural Telecommunications Cooperative and the National Rural Electric Cooperative Association
Oncor Electric Delivery Company
PPL Telcom LLC
Progress Energy
Southern, Southern Telecom, and Southern Company Services
In an example of real-world power, recently Texas State Sen. Troy Fraser got a bill passed authorizing the use of BPL in Texas, hang the possible interference problems. One of his motivations: possible competition for the cablecos. "For years, the cable industry has faced little or no competition. This bill creates a fair and balanced approach to creating additional competition in all aspects of the communications industry, which will in turn bring in billions of dollars and thousands of jobs to the state," the senator said. I like the un-ironic use of the phrase "fair and balanced" here.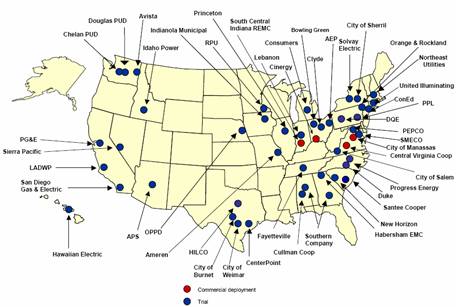 Despite all this, though, apparently only a few companies have actually deployed BPL services beyond the test phase, including Broadband Horizons and CenterPoint Energy in Texas (which is teaming with IBM) and Douglas Electric Cooperative, with more than 9,000 customers in Oregon, and Manassas, Virginia, which claims to be the first operational BPL service in the US.
Broadband Horizons got some pub recently for providing free Internet to 3,000 Hurricane Katrina evacuees. Gee, maybe Barbara Bush was right. These evacuees have it good!
But Douglas Electric Coop, an early poster child of BPM, doesn't even list the service on its Website. In fact, many utilities that are supposedly in trials don't have anything about BPL on their Websites, including North Carolina's Duke Power, which is supposedly ramping up its deployment in Charlotte to 15,000 homes passed. Huh? If you were doing some leading edge development, wouldn't you be trumpeting it on your Website? See what I mean about sales and marketing deficits?
In an interesting bit of either patronage or poaching, COMtek, which provided the BPL system for Manassas, hired the city's former utilities director as a vice president of BPL operations soon after the system was deployed. See the big pockets political discussion above.
One of the oddest things about BPL is that some of the power companies plan to actually deliver the signal to your house or business via – wait for it – Wi-Fi! Huh? I guess the reason has to do with getting through those nasty step-down transformers in your neighborhood. But, wait, I thought this was all about solving the last-mile problem, and the copper going everywhere was a big plus for BPL. Guess not.
So if all this doesn't make you think this is a hot trend, witness the fact that my favorite evil company, Google, has invested in Current Communications, a BPL provider which is selling BPL Internet service in the Cincinnati area.
All this buzz about a potentially new revenue source for power companies obscures the fact that there are several positive implications of BPL for the maintenance and operation of their existing physical plant. Power companies already do some rudimentary management over their wires; BPL would allow them to quickly spot blown transformers and other defective network elements, for example. In fact, I've been told that while testing BPL over their electrical network, at least one power company was able to predict transformer failure by measuring the device's resistance to transferring the BPL signal.
Creating a "smart grid" with BPL technology could allow energy companies to develop services such as automated meter reading, real-time system monitoring, preventive maintenance and diagnostics, and outage detection and restoration. In fact, ConEd, the New York utility, thinks that the revenue from BPL may pay for lots of the monitoring capabilities they had been planning on funding themselves. Said a CenterPoint spokesperson, "[W]ith BPL we could see the health and status of our network down to the outlet in the home. [Ed. Note: Yikes! Turn off the grow lights, Maynard!] These smart grid technologies should result in improved system reliability and service for our electric customers." In fact, there's an international consortium dedicated to bringing forth the concept of an IntelliGrid in which the power network becomes capable of real-time, two-way monitoring, sensing, and control.
So what's all this mean for consumers and businesses? Well, at the least, if power companies can grow a sales and marketing capability better than that of their fellow monopoly competitors, it could mean wide availability of a cheaper alternative for broadband access, especially in rural areas. However, despite the hype, don't expect BPL to offer blazing speeds. Apparently, BPL throughput can range from 300Kbps to 2Mbps, about the same as most cable and DSL – I get 6Mbps from my cable installation.
Don't hold your breath, though. I've been tracking this trend since 1999, and the progress has so far been glacial. Still, the future promises other potential broadband competitors, including WiMAX, EV-DO and EV-DV from the cellcos, fiber to the home, and, who knows, even blimp or aircraft-based alternatives (which I first brought to the attention of Alert SNS Readers way back in 2001). Stay tuned. The broadband wars could be heating up again.
Briefly Noted
VoIP is VHS/CD/MP3.  TDM is Beta/8-Track/Cassette.  There is no turning back.  Need more evidence? 


911/E911 is a real concern but primarily from a liability perspective.  VoIP 911/E911 is no worse than TDM 911/E911 in the Enterprise.


VoIP feature sets have long surpassed TDM feature sets.


VoIP Business Case/ROI is multi-faceted and depends on many factors, e.g. single campus v. multi-location campus, required features, etc.


VoIP Deployment is best done after careful planning and training.


IP Centrex is here, has a low cost of entry and makes sense for companies with even hundreds of employees.  Examples:  Enventis Telecom, Onvoy, Covad.


Moves, Adds and Changes alone can justify migrating from TDM to IP-based voice.


VoIP Deployments are successful up to multiple thousands of seats.  New records are being claimed on a monthly basis.  Example:  Spanlink deployed a 450-site, multi-thousand-seat Cisco-based solution for W.W. Grainger.


The FCC delayed its 911/E911 ruling.  Vonage issued a press release claiming over 99% customer feedback on 911/E911.


Small VoIP Software Vendors are adding tremendous value in the open architecture hardware solutions of large vendors such as Cisco, Nortel and Avaya.  Examples:  Unimax, Aptigen.

Voip Consortium