Be on the wave or under it™
The News – 10/18/02
In this Issue:

Recommended Reading

I realize this is the only newsletter you'll ever need, but if you want more in-depth detail, check out:

Stan Hustad's
The Coaching Connection

Management Signature's
The Express Read
True 3G Is Here; The Hinterland Rules
The second part of the Why You Need to Get Hip to HIPAA series will appear in a future SNS
Although you've heard the hype from the major wireless network vendors about their 3G networks (AT&T Wireless' mlife, Verizon's Express Network, Sprint's PCS Vision), no major network has actually released a true 3G capability, defined as sustained 144Kbps data connectivity. Field trials of all the major solutions have shown real world connectivity barely meeting the 56Kbps throughput of your standard wired modem.
Well now there is a true US 3G network, based on Qualcomm's CDMA2000 1xEV-DO network technology. But don't look for it in a major metro area near you. Monet Mobile Networks' network is limited to six upper Midwest cities: Duluth, MN, Eau Claire, WI, Sioux Falls, SD, Fargo, ND, Moorhead, MN, and Grand Forks, ND.
In what is rapidly becoming a trend, the hinterland is getting way more wired than either coast. In fact, you can be just as wired in Duluth as you can in South Korea, the world's first 3G country.
The 1xEV-DO technology provides a peak data rate of 2.4 Mbps using a single 1.25 MHz CDMA carrier. This means that, even with many users contending for network resources, the average user is likely to get more than 144Kbps throughput, equivalent to many wired broadband solutions. In fact, experts estimate that users will see data rates between 600Kbps and 1,200Kbps during off-peak hours, and between 150Kbps and 300Kbps during peak hours, with instantaneous data rates as high as 2.4Mbps. That's fast enough for video, folks.
Proponents of the technology point out that the CDMA migration path offers higher speeds and easier conversion than the GSM/GPRS path being followed by AT&T Wireless, T-Mobile and others.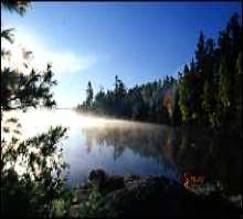 I saw Monet at the Upper Great Plains Technology Conference & Trade Show this week in Fargo, ND. The event was co-sponsored by North Dakota Senator Byron Dorgan, who also co-sponsored the Rural Broadband Enhancement Act in 2001. This act, combined with local efforts in North Dakota, has produced some astounding broadband penetration in the state. The state has announced plans for a $20 million state-wide broadband network that will connect 552 locations in 194 North Dakota cities. There's a robust fiber network covering much of the interior of the state, which is so sparsely populated, it only has one representative in the US House.
According to the National Carrier Exchange Association, despite the challenges of long loop lengths and distances from IP backbones, 65 percent of rural lines are now broadband capable, in comparison to 14 percent in 1999.
At this rate, access to high speed wired and wireless broadband will draw people from the populous cities to the countryside, where, arguably, the quality of life is better and the cost of living lower. In fact, a Minneapolis-area software development outsourcing company Cross USA has ROOTS (Rural Office Of Technology Services) located in Sebeka, MN and Watford City, ND. Both facilities are served by high speed broadband. In these centers, a loyal, experienced staff develops software for major clients while enjoying hunting, fishing, traffic-free commutes, and affordable lakeside housing. Customers can enjoy 25 percent to 40 percent savings over development based in a major urban area.
While the giant telecom companies struggle to wire up the urbanites, the wide open spaces have caught up and are surpassing their city cousins in wiredness. How you gonna keep 'em down in the suburb once they've seen Fargo?
Shameless Self-Promotion Dept.: SNS is two years old! Pop a cork!

I'm featured in Manyworlds' Thought Leader Showcase, which lists a few of the white papers I've done.

Also, check out the article I wrote for the Taylor Harkins newsletter entitled, Do you hate your customers? It continues the theme from my earlier article, analyzing the media industry's response to file sharing. My next article for them will be on Short Messaging Service (SMS), so watch for it soon.

Finally, the CTOMentor wireless white paper, You Can Take It with You: Business Applications of Personal Wireless Devices, is available at ITPapers.


Foreign Cybersquatting: You may be aware that the US Congress passed the Anticybersquatting Consumer Protection Act (ACPA) which protects trademark owners from folks who register trademark names, or names substantially similar to trademarks, with the intent of confusing Internet users. Many cybersquatters are also typosquatters: people who register misspellings of popular domain names, such as yaho or mircosoft.com. (See the TrendSpot for more information on typosquatting.)

An interesting recent suit was brought by CNN against a Chinese news company that registered the domain name cnnews.com. The Chinese company argued that the ACPA refers only to US commerce and that offering news and information to a Chinese audience did not have any effect on US commerce. Everything available on the Chinese Web site was in the Chinese language, meant only for Chinese residents, and required payment in Chinese currency.

Despite this rather reasonable-sounding argument, the US court found that the company had violated the ACPA and had acted in bad faith. The judge said that the site was used by persons who knew Chinese in the US, and thus American commerce was affected. Also, the judge found that the Chinese had acted in bad faith since they had never used the name Cnnews before registering the domain name and they also had knowledge of CNN's mark prior to their registration. Finally, the court said the use of .com instead of the country code .cn demonstrated that their target market was not limited to China.

So, even if you're a foreign company, you need to be careful in creating domain names that are similar to US trademark holders' domains. This is probably also true of foreign trademark holders' domains as well, but, since Network Solutions, which maintains the domain name database, is a US company, it's a bit murky how any disputes involving foreign parties and .com names will get handled.
Source: Twin Cities Electronic Commerce Forum newsletter article by Linda Hopkins

Justice Lost 400 Laptops: These are the guys protecting our homeland, and they can't even keep track of their own computers! Inspector General Glenn Fine of the US Justice Department reported that 400 portable PCs belonging to the FBI, DEA, USMS, BOP, and INS were missing. Many contained sensitive data relating to national security and law enforcement, which is alarming, but even more alarming is the fact that the FBI hadn't performed an inventory count since before 1993.
C|Net


BlackBerry Gets Better Connected: A couple of recent announcements have dramatically improved the utility of Research In Motion's BlackBerry™ PDA. In August, the company announced that it will offer a secure software application for viewing email attachments on its devices. The company claims the application "will leverage open standards and core BlackBerry wireless email features including end-to-end security (with Triple DES encryption), always-on capabilities, multi-network support and centralized management to enable secure access to email attachments." Then, this week, RIM announced the commercial availability of a new Java-based BlackBerry Wireless Handheld™ for Rogers™ AT&T™ Wireless' GSM/GPRS network in Canada. The BlackBerry 6710™ integrates a phone into the PDA.

These improvements bring the BlackBerry from the rear of the PDA convergence revolution to the forefront and enable the device to compete against Pocket PC-based PDA phones.
Research In Motion


Nanotech Bill Introduced: In September, US Senators Ron Wyden (D-Ore.), Joe Lieberman (D-Conn.) and George Allen (R-Va.) introduced bipartisan legislation to promote nanotechnology research and development in the United States. The 21st Century Nanotechnology Research and Development Act would spark a coordinated inter-agency effort that would support long-term nanoscale research and development.

"Nanotechnology is quickly transforming almost every corner of our modern world and is already significantly improving our quality of life," said Allen. "From computers and electronic devices, to health care and pharmaceuticals, to agriculture, energy and our national defense, nanoscience will be the foundation of many of the revolutionary advances and discoveries in the decades to come and will soon occupy a major portion of the technology economy."

Check out our Nanotechnology Resources directory for more information on this important technology.
Sen. Allen
Return to Mike's Take


Copyright © 2000-2008, StratVantage Consulting, LLC. All rights reserved.
Please send all comments to
.

Looking to light up your office, your business, or your city?
The WiMAX Guys™ can help you easily provide secure wireless Internet to your customers.

The WiMAX Guys specialize in designing and running wireless networks. We're experienced, we're quick, and we won't cost you an arm and a leg. Give us a call today provide your users a wireless Internet experience tomorrow.
Call Mike Ellsworth
Head Guy
952-400-0185
www.TheWiMAXGuys.com
---
Alert SNS Reader Hall of Fame
---
About The Author

---
Announcing CTOMentor, a New Service from StratVantage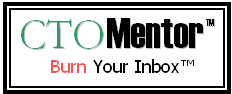 ---
Can't Get Enough of ME?
In the unlikely event that you want more of my opinions, I've started a Weblog. It's the fashionable thing for pundits to do, and I'm doing it too. A Weblog is a datestamped collection of somewhat random thoughts and ideas assembled on a Web page. If you'd like to subject the world to your thoughts, as I do, you can create your own Weblog. You need to have a Web site that allows you FTP access, and the free software from www.blogger.com. This allows you to right click on a Web page and append your pithy thoughts to your Weblog.
I've dubbed my Weblog entries "Stratlets", and they are available at www.stratvantage.com/stratlets/. Let me know what you think.

Also check out the TrendSpot for ranking of the latest emerging trends.
---
In Memoriam
Gerald M. Ellsworth
March 14, 1928 - July 5, 2003
In Memoriam
Jane C. Ellsworth
July 20, 1928 - July 20, 2003