Be on the wave or under it™
The News – 11/10/00
In this Issue:

Recommended Reading

I realize this is the only newsletter you'll ever need, but if you want more in-depth detail, check out:

Stan Hustad's The Coaching Connection

Management Signature's The Express Read
Convergence to the Max
Sprint and Samsung have released a phone with a built-in MP3 player and access to music downloading sites. Sprint PCS My Music service is supplied and managed by HitHive and incorporates RealNetworks RealJukebox software. The phone is the new Samsung Uproar. Apparently, users must rip and upload MP3s from their own music collections for later download to the phone. What's wrong with this picture? Wouldn't a Rio be handier? But I guess the pocket bulk factor is important too.
The cool thing is you can stream the music directly to the phone. And the phone has 64MB of memory for more than an hour of playback time.
Gateway-AOL: You've got Net appliance!
I usually try to write my own headlines for these bits, but I used this one from the ZDNet article to make a point. Using "You've got . . ." to introduce articles about AOL has gotten really, really old! Come on you media types! Get off this tired convention.  Then maybe we can say, "You've got . . . a clue!"
Anyway, unlike Netpliance, which is getting out of the consumer market, Gateway and AOL obviously don't think the Net Appliance market is dead. But tell me: Who wants a $600 appliance? Get an eMachine! However, this announcement is also notable because it involves Transmeta chips. Transmeta is the company that persuaded the creator of Linux, Linus Torvalds, to come work for them.
Swatch Redefines Time
Can you say, hubris? Swatch and Ericsson have unveiled the T20 phone, the first phone to use Internet time. "In Internet time, there is no day or night, there are no time zones or geographical borders. Internet time was invented by Swatch and is based on one global time zone for all Internet users." The phone was unveiled at 480 beats in London. Somehow this is easier than saying 10:32 am GMT. As Sting said, "One world is enough, for all of us."
So where have I been? Swatch invented Internet time two years ago!
Oh, darn. One small problem: the phrase Internet Time® is trademarked in the US by VirtualFund.
Briefly Noted
Shameless Self-Promotion Dept.: StratVantage has launched a new service, CTOMentor™, designed to allow Chief Technology Officers and other technical leaders to get rid of the Guilt Stack, that pile of magazines you'll get around to reading someday.

CTOMentor is a subscription advisory service tailored to customers' industry and personal information needs. Four times a year CTOMentor provides a four-hour briefing for subscribers and their staffs on the most important emerging technology trends that could affect their businesses. As part of the service, subscribers also get a weekly email newsletter, Just the Right Stuff™, containing links to the Top 10 Must Read articles needed to stay current. These and other CTOMentor services will let you

Burn

Your Inbox™.

As part of its launch, CTOMentor is offering a two-part white paper on peer-to-peer technology: Peer-to-Peer Computing and Business Networks: More Than Meets the Ear. Part 1, What is P2P?, is available for free on the CTOMentor Web site. Part 2, How Are Businesses Using P2P?, is available for $50.
CTOMentor


Return to Mike's Take


Copyright © 2000-2008, StratVantage Consulting, LLC. All rights reserved.
Please send all comments to
.

Looking to light up your office, your business, or your city?
The WiMAX Guys™ can help you easily provide secure wireless Internet to your customers.

The WiMAX Guys specialize in designing and running wireless networks. We're experienced, we're quick, and we won't cost you an arm and a leg. Give us a call today provide your users a wireless Internet experience tomorrow.
Call Mike Ellsworth
Head Guy
952-400-0185
www.TheWiMAXGuys.com
---
Alert SNS Reader Hall of Fame
---
About The Author

---
Announcing CTOMentor, a New Service from StratVantage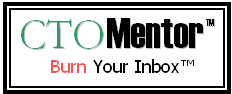 ---
Can't Get Enough of ME?
In the unlikely event that you want more of my opinions, I've started a Weblog. It's the fashionable thing for pundits to do, and I'm doing it too. A Weblog is a datestamped collection of somewhat random thoughts and ideas assembled on a Web page. If you'd like to subject the world to your thoughts, as I do, you can create your own Weblog. You need to have a Web site that allows you FTP access, and the free software from www.blogger.com. This allows you to right click on a Web page and append your pithy thoughts to your Weblog.
I've dubbed my Weblog entries "Stratlets", and they are available at www.stratvantage.com/stratlets/. Let me know what you think.

Also check out the TrendSpot for ranking of the latest emerging trends.
---
In Memoriam
Gerald M. Ellsworth
March 14, 1928 - July 5, 2003
In Memoriam
Jane C. Ellsworth
July 20, 1928 - July 20, 2003