Be on the wave or under it™
The News – 09/29/00
In this Issue:

Recommended Reading

I realize this is the only newsletter you'll ever need, but if you want more in-depth detail, check out:

Stan Hustad's The Coaching Connection

Management Signature's The Express Read
Faster, Better, Cheaper Bandwidth . . .
. . . is just around the corner. According to Upside, "By the end of this year, Nortel Networks Corp. (NT) plans to begin selling a system that will send a staggering 1.6 trillion bits per second through a single fiber. That's equivalent to more than 20 million simultaneous phone calls." What will the world look like when bandwidth cost approaches zero? We may find out a good deal sooner than we thought.
At the Delphi Corporate Portals conference this week, Wired editor Kevin Kelly related a story of an early 20th century Sears product: the home motor. This portable but expensive device could power all manner of labor saving devices. Kelly asserted that people of that time couldn't imagine what was to come: motors disappeared into the fabric of the home support systems. It's certainly true. Rather than a single, expensive, valuable resource that needs to be conserved and maximized, domestic motors today are in everything and we never think about them. Try taking an inventory of all the motors in your house. Did you remember to count any mechanical clocks?
Kelly's point is that computing will disappear into the background just as so many other technologies have. I believe communications bandwidth will go the same way. Remember when you hesitated to make a long distance call because it was so expensive? (If you don't, you were probably born later than the 70s.) Now you can call for free on your wireless phone or over the Internet. Kelly described the cost curve that modern technology has created: one that approaches zero. A correlary to his thinking is my assertion that, "On the Internet, everything devolves to free." (See my presentation from the conference for more on that subject, here. Email me if you want the PowerPoint file.
So, what will you do with unlimited bandwidth?
Briefly Noted
Shameless Self-Promotion Dept.: StratVantage has launched a new service, CTOMentor™, designed to allow Chief Technology Officers and other technical leaders to get rid of the Guilt Stack, that pile of magazines you'll get around to reading someday.

CTOMentor is a subscription advisory service tailored to customers' industry and personal information needs. Four times a year CTOMentor provides a four-hour briefing for subscribers and their staffs on the most important emerging technology trends that could affect their businesses. As part of the service, subscribers also get a weekly email newsletter, Just the Right Stuff™, containing links to the Top 10 Must Read articles needed to stay current. These and other CTOMentor services will let you

Burn

Your Inbox™.

As part of its launch, CTOMentor is offering a two-part white paper on peer-to-peer technology: Peer-to-Peer Computing and Business Networks: More Than Meets the Ear. Part 1, What is P2P?, is available for free on the CTOMentor Web site. Part 2, How Are Businesses Using P2P?, is available for $50.
CTOMentor



"Won't You Sign In Stranger?": The US digital signature law goes into effect this weekend. Have you got your digital sig yet? The idea sounds great, but it could be costly to implement. Perhaps you'd like to combine it with the smart card in your mouse pad.
C|Net



Stupid Name Alert From time to time, I come upon really stupid names like WooDoggie or Google (c'mon, I know they're popular, but Google?) I guess these folks want to out Yahoo Yahoo. And maybe they have. (Not that there's anything wrong with that!)

As a public service, I'll pass stupid names along in this space. Today's candidate for Stupid Internet-Related Name of the Year is: B2B-Hive, an Internet incubator apparently for bees to bees. Perhaps an apiary lonely hearts club? OK, it's maybe not as stupid as WooDoggie, but wait -- try going to www.b2bhive.com. Guess what? That's not them! It's a cybersquatter. You need to go to www.B2B-hive.com. Now don't you think it's a lot stupider?
B2B-Hive
Return to Mike's Take


Copyright © 2000-2008, StratVantage Consulting, LLC. All rights reserved.
Please send all comments to
.

Looking to light up your office, your business, or your city?
The WiMAX Guys™ can help you easily provide secure wireless Internet to your customers.

The WiMAX Guys specialize in designing and running wireless networks. We're experienced, we're quick, and we won't cost you an arm and a leg. Give us a call today provide your users a wireless Internet experience tomorrow.
Call Mike Ellsworth
Head Guy
952-400-0185
www.TheWiMAXGuys.com
---
Alert SNS Reader Hall of Fame
---
About The Author

---
Announcing CTOMentor, a New Service from StratVantage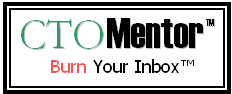 ---
Can't Get Enough of ME?
In the unlikely event that you want more of my opinions, I've started a Weblog. It's the fashionable thing for pundits to do, and I'm doing it too. A Weblog is a datestamped collection of somewhat random thoughts and ideas assembled on a Web page. If you'd like to subject the world to your thoughts, as I do, you can create your own Weblog. You need to have a Web site that allows you FTP access, and the free software from www.blogger.com. This allows you to right click on a Web page and append your pithy thoughts to your Weblog.
I've dubbed my Weblog entries "Stratlets", and they are available at www.stratvantage.com/stratlets/. Let me know what you think.

Also check out the TrendSpot for ranking of the latest emerging trends.
---
In Memoriam
Gerald M. Ellsworth
March 14, 1928 - July 5, 2003
In Memoriam
Jane C. Ellsworth
July 20, 1928 - July 20, 2003