The Raw File – Stuff That Didn't Fit into SNS
Here's a bunch of items that never made it into the StratVantage News Summary. Some of the info is a bit dated now, but most is still interesting. So here it is, raw and uncut, the infodump that I massage into SNS issues on a regular basis.
Enjoy.
LONDON (Reuters) - Scientists set out on Tuesday to harness the power of home computers to predict climate change more accurately than ever before.
RFID Software Standard: http://www.cbronline.com/article_news_print.asp?guid=501806F2-1E9D-4A59-97CB-B078CDEE410D http://www.enterpriseitplanet.com/networking/news/print.php/3550956
<![if !supportLineBreakNewLine]>
<![endif]>

Metric: Fuel cells to take off in 2006

According to a new study from NanoMarkets, 2006 will be the break-through year for mobile fuel cells, a soon-to-be commercial technology that will provide longer-lasting power supply for handsets and other mobile devices. The study estimates that the mobile fuel market in 2010 will be worth $1.6 billion and about $2.6 billion in 2012. Insiders say the technology will fulfill future burgeoning power requirements for the smart phone. Initially the fuel cells may serve to complement batteries as portable rechargers or as battery/fuel cell hybrids, in which fuel cells provide long-lasting power and batteries deal with power spikes.

For more details on the future of mobile fuel cells:
- take a look at this press release

http://techrepublic.com.com/2100-3513_11-5869832.html?tag=nl.e019 New tech knocks out digital cameras
Security researchers warn against a hacking technique in which scammers set up a bogus wireless access point near a legitimate base station that they then jam.
By Gregg Keizer
TechWeb News

<![if !vml]><![endif]>

<![if !vml]><![endif]>

<![if !vml]><![endif]>

<![if !vml]><![endif]>
An "Evil Twin" that hijacks unsuspecting wireless transmissions is the latest security bugaboo, academic researchers in the U.K. asserted Thursday. But the idea is anything but fresh.

The hacking technique is dubbed "Evil Twin" because scammers set up a bogus wireless access point near a legitimate base station that they then jam. Users within range of the sham access point connect to it thinking that it's a real link to the Net. All the time, however, the information transmitted over the wireless connection is being intercepted by the hackers, who look for passwords, usernames, financial account log-in information, or other confidential data.

Think of it as one big key logger and you get the idea
  "Much of the information of the 21st century and the late 20th century
will be lost if we don't do something," said L. Reynolds Cahoon, an
assistant archivist at the National Archives and Records
Administration.
  The world, and the U.S. government, are increasingly moving from paper
records to electronic ones. Billions of pieces of information are
digitized, including military personnel records, Social Security
accounts, nuclear-plant designs and border-safety plans. But while
electronic data - such as digital photos or word documents on floppy
disks - are easily reproduced and take up little physical space, they
are easily erased, have a short shelf life and are often delivered by a
system that quickly becomes obsolete.
  The National Archives, which manages records for the federal
government, is losing data every day as new technology replaces the
old. So, with the goal of finding the holy grail of records permanency,
the agency awarded $20 million yesterday to a pair of companies in a
competition that seems impossible: designing an everlasting technology
to house the nation's history.
  "No one can today guarantee to our military forces that these
electronic records can be preserved," said Kenneth Thibodeau, director
of the project, dubbed the Electronic Records Archive. The new system -
whatever it might be - will make that promise, he said.
Obsolete technologies
During a news conference yesterday at the National Archives, where the
nation's most revered documents of American independence are displayed,
Cahoon drove home the point. He held aloft relics of data storage -
computer punch cards, an eight-track cassette tape and a black 5 1/4
-inch floppy disk. "Just as these technologies have become obsolete and
the information on them inaccessible," he said, so will the information
stored on today's technology: thumb drives, zip disks, CD-ROMs.
  Other government offices are also feeling the pressure to preserve.
The Smithsonian Institution began busily capturing images in digital
formats several years ago, said Shannon Perich, a specialist at the
National Museum of American History. But archivists later realized they
needed a hard-copy backup such as slides or transparencies in case the
technology changes and "those [digital] files don't convert," Perich
said.
  The National Archives administration has spent six years outlining the
problem and creating a technology wish list. It solicited bids from
various companies and yesterday chose Bethesda-based Lockheed Martin
and Florida-based Harris Corp. to begin the work    .Itgrantedeacha
one-year contract worth about $10 million.
  The companies will spend the next nine months researching a solution
to digital data decay. The winner could land a contract worth $500
million.
  For now, the companies and records administration are talking mostly
in generalities and hypotheticals, reflecting the unusual challenge.
The new technology will have to last over time and be universal enough
to entice others to adopt it, including those in the business and
commercial sectors - potentially around the world.
  "It's very, very hard to make that happen," said William G. LeFurgy,
digital initiative project manager at the Library of Congress, which is
working with the National Science Foundation to create electronic
standards of its own. "One of the great things about information
technology is there's a lot of diversity and innovation. That kind of
works against moving toward one particular standard."
  Warring standards in technology are as old as the wheel. Beta battled
VHS for videocassette rights 20 years ago, and today differing
standards have delayed the adoption of high-speed wireless and radio
frequency identification tag technologies.
  Don Antonucci, president of Lockheed Martin's Transportation and
Security Solutions division, said he hopes to develop a format that
isn't dependent on a specific program to be accessed - something like a
DVD player that could run VHS cassettes and reel-to-reel film. The
greatest challenge, he said, will be in anticipating integration with
"technology that has not yet been created or even imagined."
  Bob Henry, president of Harris Corp.'s government division, said his
biggest concern is coming up with a system that could digest the huge
amount of data within the National Archives. Several million, billion
electronic bits will have to be processed.
Rivals for contract
The two companies involved are quite different: Lockheed Martin, the
world's largest defense contractor, has 130,000 employees, recorded $32
billion in sales last year and has worked on countless electronic and
security projects for the government. Harris, based in Melbourne, Fla.,
has 10,000 employees, half of them engineers and scientists, and
recorded $2 billion in sales last year.
  The archives will award a final contract to one of the companies by
next summer. Cahoon said he expects the winning system to have "initial
operating capabilities" by late 2007, with full operation by 2011.
  Technology shelf lives
  Videotape and film: 10 years
  Floppy disks and super disks: 10 to 30 years
  Recordable DVDs and CDs: 30 to 100 years
  Stone carvings and treated paper: centuries

<![if !supportLineBreakNewLine]>
<![endif]>
Regulations: You Snooze, You Lose
In the strongest sign yet that the government will, if it must,
regulate corporate security, the Federal Trade Commission is
cracking down on companies with lax security on their websites.
CHICAGO – Each time a Sprint PCS customer wants to send a "short mail" to another phone, waiting to hop on the Web and then access the text message is currently a requirement.
As many of us know, several of the other major wireless carriers just blast text messages directly to their phones – effectively averting the need to log onto the wireless Web. Sprint PCS finally has decided to follow suit.
But to do so, the carrier must first take down its short mail system. Sprint PCS has recently done just that without notifying customers, ePrairie has learned. As the wireless text messaging crave proliferates by the day, Sprint PCS messaging customers are currently left in the dark.
The carrier plans to migrate its current messaging network to one that doesn't necessitate logging onto the wireless Web, which would hasten a user's access to individual text messages. Sprint PCS is currently shooting for an end of November project completion date, according to ePrairie sources.
An attempt to send a Sprint PCS short mail message currently dissolves into cyberspace. At the present, no notification is displayed on the carrier's Web site.
UWB Splitting Up?
By Vikki Lipset
Published November 17, 2003


Hopes for a swift resolution to the ultrawideband standards process were dashed last week when the 802.15.3a Task Group emerged from an IEEE meeting in Albuquerque, N.M., in deadlock, creating the distinct possibility that all that may come out of the whole mess is two de facto UWB standards.
Microsoft to charge for MSN Mobile
Microsoft today said it will begin charging for MSN Mobile, a service that lets MSN and Hotmail users check their email and use other services from their mobile phones. Starting on December 3 MSN Mobile users in the United States and Canada will have to pay $19.99 a year to access MSN services via their mobile phones, with fees going up to $24.99 a year after November 25, 2004. The new paid-access policy will affect MSN Mobile services on Sprint PCS and Verizon Wireless in the U.S., and Bell Mobility and Rogers AT&T in Canada. Some analysts are skeptical if Microsoft will be able to generate sizable revenue from its mobile content services.
For more on Microsoft's new paid-access model:
- see this piece from CNET
Verizon Wireless, Lucent launch 3G in San Diego, Washington, D.C.
Verizon Wireless and Lucent Technologies today said they will launch broadband wireless data service on October 1 in San Diego, California, and Washington, D.C. The new service, called BroadbandAccess, uses CDMA2000 EV-DO technology and is part of Verizon Wireless' VZOffice suite of wireless products and services targeted at the enterprise. BroadbandAccess requires the Verizon Wireless PC 5220 card, which costs $149.99 after $100 rebate, and is available for a $79.99 flat-rate monthly fee. The service offers data speeds of 300-500 Kbps with occasional bursts of up to 2 Mbps. BroadbandAccess is the first cellular wireless data service in the U.S. to offer data speeds comparable to landline broadband and WiFi. Verizon Wireless tested its EV-DO network in Washington, D.C., and in San Diego through 2002.
For more on Verizon Wireless' new EV-DO service:
- go to this press release
http://www.franklinwireless.com/
Finally, consider this picture brought to our attention by reader Robert
Macauley.  They're not watching a movie -- they're "programming!"
 Image - Monkey Programming School -
  http://www.newtechusa.com/ppi/images/7517897_image001.jpg
According to an article in "Primate Programming Inc."
(http://www.newtechusa.com/ppi/pressroom.asp#higher) titled "Higher
Primates Can Program After VB.NET Training", it seems that Stamford
School of Zoology's Dr. James McAuliffe amazed even himself with the
results of recent experiments:
    "Baboons and chimpanzees can use computers, do software testing, and
    even program...
    ...When male baboons were shown multi-way branches leading to
    certain GIF, JPG and BMP images of interest, we found the male
    animals could quickly navigate and recall up to seven levels of deep
    menu nesting, with each level containing up to 27 menu items.
    ...That's about 35 million possible paths."
And you were worried about programming jobs being outsourced merely to
other COUNTRIES!?!
Find out more about current Primate Programming services and personnel
through links on PPI's home page -
http://www.newtechusa.com/ppi/main.asp , and in their faq at
Netgear Using Super G and A/G
By Eric Griffith
Netgear (Quote, Company Info) of Santa Clara, Calif., today announced some of the first products that will use the speed boosts called Super G and Super A/G provided in the latest generation of Atheros chipsets for 802.11a and 802.11g. The claim is the products could be capable of as much as 108Mbps.
Netgear is announcing a new set of 802.11g products (backwards compatible with 802.11b, as are all 802.11g products) that will use the Super G speed boost with the rather unceremonious names of the 108 Mbps Wireless Firewall Router (model WGT624, $149.99 MSRP) and 108 Mbps Wireless PC Card (model WG511T, $89.99 MSRP). The products will also use Netgear's Smart Wizards software for installation and an all-new Wizard for assisting with firmware upgrades. Future firmware for the router will offer WDS repeater functions; the router comes with four 10/100 Ethernet switched ports, NAT and SPI firewall, up to 152-bit Wired Equivalent Privacy (WEP) encryption, Wi-Fi Protected Access (WPA), security logs, and VPN pass-through.
http://www.wi-fiplanet.com/news/article.php/3067951
Coming Soon: HotCountries
By Gerry Blackwell
Chris Gilbert, CEO of IPWireless, is loath to admit that service providers using his company's 3G-based wireless broadband data technology might actually be in competition with Wi-Fi hotspot operators. He'd rather dwell on how the two wireless technologies can complement each other -- which they certainly can. Gilbert is a good-news kind of guy.
He finally caves, though, when we ask what happens to Wi-Fi hotspot providers in an area where an IPWireless operator is offering service with ubiquitous, cellular-like coverage? This is exactly what AtlasONE, a start-up and relatively new IPWireless customer in Malaysia, is planning to do. It's one of several around the world.
http://www.wi-fiplanet.com/columns/article.php/3068261
Judge bans RIM from selling BlackBerry in the U.S.
Research in Motion (RIM) late yesterday was barred by a U.S. judge from selling its BlackBerry handheld or any accompanying services in the U.S. as a part of the company's ongoing legal battle with NTP. The injunction will remain in effect until all of NTP's related patents expire on May 12, 2012. The judge then stayed the injunction, pending an appeal by RIM. The court also ruled that RIM must pay NTP $53.7 million in damages. If RIM fails to win its appeal this decision could effectively end the company's ability to do business in the U.S. market. The decision has also quieted rumors that an IT integrator like Hewlett-Packard might acquire RIM. RIM and NTP have been engaged in a legal fight since late 2001, when NTP claimed that RIM infringed on its patents covering the use of wireless communications with email systems.
For more on the latest legal decision in the RIM case:
- see this story from CNET
Pushing Giant for More Changes
Probe Focuses on Multimedia,
Inner Workings of Windows
By BRANDON MITCHENER and JAMES KANTER
Staff Reporters of THE WALL STREET JOURNAL
BRUSSELS -- The European Union, again flexing its muscle as the regulator that could force companies to hew to tougher global standards, said it may force Microsoft Corp. to change the way it sells some of its software and cough up more information about how its software works in general.
In an unprecedented third and "final" warning to the software giant after a drawn-out investigation, EU regulators said Wednesday Microsoft was continuing to thwart competition in the market for software that millions of companies, governments and consumers use to run offices and play music and videos.
Among other threatened remedies, the European Commission, the EU's chief antitrust authority, said it wanted Microsoft to market a "naked" version of its ubiquitous Windows operating system without software that played digital music and videos. The company could also face a hefty fine.
Europe's 4 largest wireless carrier collaborate to let consumers "Pay for stuff with your mobile"

Four big players in the European wireless market, Orange SA and Vodafone from Britain,

Telefonica

Moviles

from Spain, and T-Mobile from Germany, have joined forces to create

Simpay

- a company that lets cell phone users securely pay for products with their cell phone. The long-term goal of the four wireless companies is to increase the popularity and usefulness of mobile commerce, by creating a single payment processing brand. The market is currently limited, but is expected to grow. More at

Silicon Valley

,

6/23/03

:
http://www.siliconvalley.com/mld/siliconvalley/6151471.htm



researchers

are also focusing on several new

nonthermal

techniques to kill dangerous bacteria. One area of investigation is biosensors, the biological equivalent of the old practice of sending a canary down into a mine with to spot dangerous levels of methane gas: When the canary dies, it's time for the humans to leave.

The goal is to spot normally harmless bacteria cells that behave a certain way in the presence of dangerous toxins. For example, at

Clemson

University

in

South Carolina

a team of chemists, microbiologists, and food scientists have devised a way to tether luminescent molecules to food pathogens, such as e. coli and salmonella, to make contaminated food glow in the dark. Led by

professor

Paul Dawson, the team is working to create a "protein key" that would "fit" with another molecule, creating a bio-alarm when key and lock fit. Though promising, biosensors are still years from widespread commercial usage.

Another technique, high-pressure processing, where liquids are put under 150,000 pounds per square inch of pressure, is already being used to reduce contamination in products including guacamole and fresh orange juice. The intense pressure inactivates microbes and other undesirable enzymes by causing their membranes to burst. Because heat isn't involved, the process doesn't affect freshness or flavor, or cause liquids to lose important vitamins and minerals that are destroyed by high-temperature treatments. From

Roger

Hamm





http://yahoo.businessweek.com/technology/content/jul2003/tc2003078_8216_tc114.htm




More
From

Forbes
Web Lab 06.25.03


We

test

Ceiva

, a digital picture frame and Napster alternative,

LimeWire

.
http://www.coxar.pwp.blueyonder.co.uk/
http://architecture.mit.edu/house_n/web/resources/articles/lifeinthefuture/MIRACLES%20OF%20THE%20NEXT%20FIFTY%20YEARS.htm


Clean air at the Internet truck stop cafe
Hookup lets drivers turn off engine, go online at night
http://www.sfgate.com/cgi-bin/article.cgi?file=/chronicle/archive/2003/06/16/BU222509.DTL&type=tech


LinkSpot

and Transaction Network Services team to roll out $5.95 per day

WiFi

service at RV parks around the country

RV parks are being added to the growing list of hot spots for

WiFi

, right up there with coffee shops, hotels, and airport terminals, and even truck stops. RV wireless connectivity service will cost around $6 per day for unlimited use, according to

LinkSpot

Networks, one of the companies helping to build the service. Already installed in 20 parks nationwide, up to 100 parks are expected to be connected this year, and as many as 1,000 in 5 years.

LinkSpot

will be setting up each wireless network, and TNS will run the service. More at Washington Post,
http://www.washingtonpost.com/wp-dyn/articles/A2409-2003Jun16.html


A new California law requires companies to report security breaches:
<http://www.boston.com/dailyglobe2/174/business/Law_requires_that_firms_
reveal_security_breaches+.shtml> or <http://tinyurl.com/fddn>In the days after 9/11, lots of people took advantage of malfunctioning
cash machines and stole millions.
<http://www.nzherald.co.nz/latestnewsstory.cfm?storyID=3508252&thesectio
n=news&thesubsection=world> or <http://tinyurl.com/erxh>Password Safe
Password Safe 1.92b is available.
Many computer users today have to keep track of dozens of passwords:
for network accounts, online services, premium Web sites.  Some write
their passwords on a piece of paper, leaving their accounts vulnerable
to thieves or in-house snoops.  Others choose the same password for
different applications, which makes life easy for intruders of all
kinds.  Password Safe is a free Windows utility (originally developed
at Counterpane Labs) that allows users to keep their passwords securely
encrypted on their computers.  A single Safe Combination -- just one
thing to remember -- unlocks them all.
Password Safe has always been free, but it only become open source last
year.  This April, Rony Shapiro took charge of the project.  (Applause
and accolades.)  He's released a new version, based on work by a small
team of volunteers.
Password Safe 1.92 has a number of small improvements, all of which
make it easier to use and more customizable to each user's
preferences.  The changes include: resizable main window, displaying
username and notes in main window, ability to search the database for a
given string, listing last database opened, ability to define generated
password policies, ability to pass the name of a database via command
line.  The Release Notes list all the changes in gory detail.
If you're a user of Password Safe 1.7 (the most recent version
available on the Counterpane Web site), you'll have no trouble going
back and forth with the same database.
Password Safe 2.0 is currently under development.  The significant new
features are: an ability to organize passwords in hierarchical view,
portability to other platforms (PocketPC, Linux, Palm, probably in that
order), and an extensible database format (meaning that they will be
able to add more features easily).  The overall goal is to keep
Password Safe a small and simple application.
As with any open source non-commercial project, schedules are
fluid.  Right now, the end of this year is a good conservative estimate
for a non-beta 2.0 release.
Password Safe Web site:
<http://www.counterpane.com./passsafe.html>



Portable device that shows real-time traffic information in

Washington

entice angel investors



TrafficGauge

, a new

Seattle

start-up company, is releasing a new battery-operated portable device that commuters are sure to love. The device is portable and small enough to mount on a dashboard, and shows real-time maps of traffic jams on 4 major roadways in

Washington

. The Washington State Department of Transportation delivers the maps via radio waves to the portable devices, indicating the always shifting traffic conditions. The device, available only through

TrafficGauge's

website, can be purchased for $49.99, and has a monthly service fee of $4.99. More at Seattle Pi,

6/13/03

:
http://seattlepi.nwsource.com/venture/126468_vc13.html


The future of retailing in IBM lab;

wristpad

computer will handle cashless transactions

IBM is working on producing a variety of products that will revolutionize the way shopping is done. Among the new products is the IBM Watch Pad, a product that is expected to hit the open market in fewer than 5 years. Running the Linux OS, the watch is a "complete computer on your wrist" that has Bluetooth and infrared wireless connectivity capabilities, and may have a fingerprint sensor at some point in time to verify your identity. Other advantages of the watch include personalized sale information about the products you most often purchase, access to credit cards without carrying the cards around, a calendar, address book, email, photo album, and video game access. While still in the prototype phase, this kind of multi-functionality is expected to become popular in the very near future. More at MSNBC,

6/11/03

:
http://www.msnbc.com/news/925276.asp?0si=-&cp1=1





United Airlines plans to be first air carrier to offer 2-way in-air email services

Airlines said it would be the first commercial carrier to offer two-way e-mail on all its domestic flights. By the end of the year, passengers will be able to connect their laptops to the

Verizon

Airfone

handsets that will use technology developed by

Tenzing

Communications. The

JetConnect

service will be offered to all passengers for a charge of $15.98 per flight. More at

Silicon Valley

,

6/17/03

:
http://www.siliconvalley.com/mld/siliconvalley/6106096.htm



Microsoft intensifying campaign against spammers; files 13 civil suits domestically, 2 in

UK



In an attempt to boost its anti-spam campaign, Microsoft

has

begun taking legal action in its home state of

Washington

, as well as in the

United Kingdom

. Microsoft has filed 13 civil suits domestically, with accusations of spamming their customers with deceptive emails. 2 suits were filed in the

UK

, with accusations against the defendants for illegally harvesting Microsoft email addresses in building spam mailing lists. More at

Cnet

,

6/17/03

:
http://news.com.com/2100-1026_3-1018140.html?tag=fd_top


US Senate has bill to restrict spam

The Senate Commerce Committee will consider the "CAN-SPAM" Act and many other tech-related bills, including proposals to fund nanotechnology research as well as strengthen oversight of a program to wire libraries to the Internet. The CAN-SPAM Act would allow federal regulators and ISPs to sue spammers using forged or false headers, do not contain valid opt-out information, or send messages to email addresses found by crawling the web. More at

Cnet

,

6/16/03

:
http://news.com.com/2100-1028_3-1017962.html?tag=fd_top


US Supreme Court rules sex.com domain name is property and should be protected as such

The six-year legal battle over the sex.com domain has been settled, as the Supreme Court rejected Cohen's appeal. Cohen illegally hijacked the domain by forging a letter to transfer ownership of the domain to his name. When the owner of the domain found out and tried to regain ownership, the domain registration company refused to return it to him without a court order. More at Internet News,

6/12/03

:
http://www.internetnews.com/bus-news/article.php/2221341


Suddenly, it's not just Linux users; customers of AIX, IBM's
Unix variant, are suddenly at risk, too, since Mini-Me has
rescinded IBM's license to that version of Unix. It's turned
into an incredible Saturday-morning serial. What will Larry
do next? Will SCO raise its ransom requests to $10 billion?
Could Linus Torvalds be our own version of Austin Powers,
riding to the rescue in a fire-engine-red VoodooPC, smiting
Dr. Evil and Mini-Me simultaneously? Too much to ask for,
but this entire episode has me gawking in disbelief. Of
course, we've got all the details on the latest developments
here, with full special reports on both PeopleSoft vs.
Oracle and SCO vs. the World. These are two of the most
important stories of the year, and you can't afford to be
uninformed, so make sure you check each report every day for
updates.
The Battle Over Unix:
FACT: By 2005, the 3 superpowers - Japan, Korea and China - will own key global patents and IPR on 4G Technologies!
Wireless markets are currently going through immense changes, globally. The consensus among industry experts is that 4G, the "fourth generation of wireless communication" opens up a new world of benefits and opportunities that will revolutionize communications. While North Asia has been at the forefront of innovation in this area, every operator, vendor, manufacturer and user in this market is doing themselves a disservice if they're not keeping pace with the latest changes.
North Asia is the most advanced mobile market in the world, and there is a strong concentration of 4G government and industry research occurring. The region has the right combination of government initiative, industry expertise and market size and market maturity to lead in core technology research, commercialization and potentially, worldwide market domination.

From R&D to standards development, North Asia has been taking the necessary first steps over the past few years to lay the groundwork for leadership in 4G. Pyramid Research believes that the mobile and fixed technology industries of these three markets are creating an industrial juggernaut, one that will likely define the future of broadband wireless technology—and give North Asian technology manufacturers and operators a tremendous edge in competing for business in future 4G markets.
The potential marginalization of 3G technologies and business plans due to 4G.

The possible leap-

frogging

by

China

,

Korea

and

Japan

over the rest of the world in both a services and equipment perspective

The impact cooperation between

China

(manufacturer and consumer),

Korea

and Japan (R&D)

The level to which patent development and IPR collection can be used as a strategic tool by vendors and operators in North Asia in cooperation with - or competition against - players worldwide.
http://www.pyra midresearch.com/info/rpts/may03_4g.asp



Orrin Hatch Goes Crazy: Sen. Hatch Proposes "Destroying" Copyright Pirates' PCs
Los Angeles -- During a Congressional hearing on security and privacy of
peer-to-peer networks, Judiciary Committee chairman Sen. Orrin Hatch
(R-Utah) commented that he would not oppose using means to "destroy" the
PCs of users who use the networks to download copyrighted material, the
Associated Press reported. "If we can find some way to do this without
destroying their machines, we'd be interested in hearing about that,"
Hatch said. "If that's the only way, then I'm all for destroying their

machines

. If you have a few hundred thousand of those, I think people

would

realize…"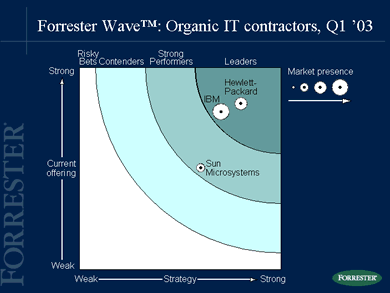 Summit Strategies 2003 Research Focus
Summit Strategies' 2003 research will center around a massive shift that will emerge as the most important, most differentiated and most profitable component of IT solutions—the shift to services-driven computing. This shift will change how all hardware, software, services and communications vendors must—and will—use services to create new, more compelling, customer value propositions. (Practice Area descriptions)
The IT industry is on the cusp of a massive shift to the era of services-driven computing—an era in which services will become the foundation of IT solutions, and emerge as their most important, differentiated and profitable component. This transformation will force all companies to perform wholesale reevaluations of their business models and strategies.
These changes will lead to profound modifications in industry shape and structure. Many companies will acquire strategic assets, sell or spin off tactical ones, and struggle to develop the types of ecosystems required to succeed in an industry in which no one yet knows the rules. In this report, we explain why the industry is entering this new era, and how it will redefine the solutions and rearrange the entire IT market competitive landscape.
Report Features
Assesses the changing role and composition of all types of IT services, from front-end demand creation through life-cycle delivery services;
Evaluates which type of provider is best suited to deliver each type of service to different types of customers; and
Analyzes the impact of the shift to a services-driven industry and the changing nature of the underlying services.
Tom Kucharvy
Graeme Thickins:
Experts say this movement will blend well with the related concepts of grid computing and Web services, mentioned above. With grid computing, storage, databases and applications are made available for customers to access on demand over networks that appear as one large virtual computing system. Part of what utility computing provides is the necessary charge-back function to support grid computing.
So wait just a doggone a minnit, here. Are we just talking about Application Service Providers dressed up in fancier clothers?
Chip Makers Give 802.11g More Speed


http://www.80211-planet.com/news/article.php/2222031



Who can blame business technology executives if half a decade of overspending on IT now makes them somewhat obsessed by costs? Indeed, companies in much of the world are capping their IT expenditures. Some companies even peg the performance bonuses of chief information officers to how much money they cut from technology budgets.1
 Yet companies

underinvest

in technology at their peril—even in lean times. New technology, deployed intelligently, can help organizations make dramatic leaps in productivity and redefine competition within whole sectors, as Wal-Mart and Dell Computer, among others, have shown. The essence of smart deployment is knowing where and when to invest. Which technology expenditures will yield a sustainable, differentiable advantage? Will the bleeding edge of technology bolster a company's bid to be a leader, or should executives wait until the risks and costs fall? These perennially difficult questions—which hinge on a complex array of industry-specific factors—become even thornier when earnings pressures are high.
Compounding the challenge is the tendency to view technology, first, as a panacea and, then, after the hype proves unrealistic, as anathema. The experience of the leaders shows that new technology alone won't boost productivity. Productivity gains come from managerial innovation: fundamental changes in the way companies deliver products or services. Companies generate innovations, in fat years or lean, by deploying new technology along with improved processes and capabilities.2
How can companies invest in technology to achieve meaningful gains? The McKinsey Global Institute (MGI) spent two years investigating the relationship between IT and productivity and found that the former most effectively stimulates the growth of the latter by helping companies to innovate. Innovation sometimes means creating new products (such as faster microprocessors), services (mobile telephony), or processes (on-line securities trading). But it also involves using technology to

turbocharge

existing processes by helping companies to extend their current advantages in key areas. When Wal-Mart linked IT with its efficient distribution network, it advanced both the state of the art in supply chain management and the productivity frontier of its sector.3

MGI's

research suggests that to foster innovation rather than merely spawn systems that are quickly imitated or promote the wrong goals, companies should focus on two priorities. The first is to identify the productivity levers offering the greatest opportunity for competitive differentiation: targeting the few specific levers that could well create a competitive advantage produces results more reliably than striving for improvement everywhere. The most promising IT initiatives usually evolve along with related business processes and build on an organization's operational strengths. When taking this route, companies should beware the siren song of IT success stories from other industries, since the levers that matter in one sector may be irrelevant in another.
The second priority is to master the sequence and timing of investments. Many technology-based advantages, particularly those that don't involve fundamental business changes, have a limited life because they diffuse rapidly through the sector. Timing is therefore critical if IT investments are to generate returns. Companies that get it right develop a clear understanding of how IT-enabled competition is evolving in their sectors. Investing ahead of the pack makes sense if the technology is hard to mimic, continues to yield benefits even if imitated, or offers great near-term value. Otherwise, companies can often hold down their spending and boost their returns by diving in only after others have made investments—and mistakes.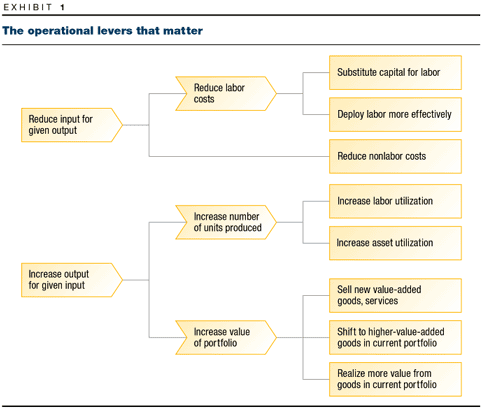 Although the impact of IT on a function can be hard to isolate, rough metrics are bound to exist if the business goals are clear. (An inability to determine in advance how to measure an investment's business impact is a warning sign.)

Thus, companies that invest in sophisticated capabilities before the fundamentals are solid can easily waste money. One major general-merchandise retailer, for instance, invested millions to manage and measure the effectiveness of sales promotions, but since its warehousing systems couldn't cope with the fluctuations in volume that accompany big promotions, it ended up with dissatisfied customers. Yet companies can also spend too much time and money on basic IT infrastructure and never reach the incremental high-return investments. Sequencing is a delicate balancing act.
Characteristics of Success
Looking at three sectors in detail – retail trade, retail banking, and semiconductors – the team found that successful IT deployment in these sectors typically shared three characteristics: (from http://www.mckinsey.com/knowledge/mgi/IT/index.asp

Applications were tailored to sector-specific business processes and linked to performance levers. Retail banking applications, for example, broke bottlenecks in the lending process by automating once-manual steps in credit verification and authorization.


Applications were deployed in sequence to draw on learning and capabilities built up over time. For instance, leading retailers first automated data capture and storage, then used the data to develop enhanced decision-support capabilities like merchandise planning.


Managerial and technical innovation evolved together in tandem with IT applications. In retail banking, a leading player used imaging technology to automate loan processing and innovated by diffusing the new platform to build scale.

http://www.mckinseyquarterly.com/article_page.asp?ar=1285&L2=13&L3=13&srid=27&gp=0 (Free Registration Required)


mips rating
RSA129 project 104
Internet 3 . 107
the world 3 . 108
We then find that the typical processor in 2004 might
be rated at 103 mips, and in 2014 at 104 - 105 mips.
Since there are already over 108 computers in the
world, it seems safe to assume there will be at least
2 . 109 by 2004. By the year 2014, we might have
1010 - 1011 (Appendix F). Further, by that time
almost all are likely to be networked together.
However, it is uncertain what fraction might be available
for a factoring experiment. Let us consider two
scenarios:
Odlyzko ftp://ftp.rsasecurity.com/pub/cryptobytes/crypto1n2.pdf
http://news.com.com/2100-1008_3-1001815.html?part=dht&tag=ntop
"As interest in nanotechnology peaks, government
scientists are claiming a significant breakthrough with the ability to make atoms move one by one." Sent by Orlin Melstrand

If you're a glutton for punishment, here's More Raw File.