So what does the future hold for your business? While no one can say for sure, that doesn't stop commentators, pundits, and experts from trying to forecast the future of eBusiness. Below are some links to interesting articles, speculations, and tea leave readings that can help you pick up the trends that may affect your business in the future.
Also, check out StratVantage's TrendSpot, where we track the hottest eBusiness trends and comment on their effects, and our Prediction Tracker, which tracks our predictions.
Internet Incubators
---
Lessons of a failed incubator
The collapse of Digital Disrupters may mark the beginning of the great incubator shakeout that pundits have been predicting. But the Chicago-area hatchery's demise also offers lessons to other troubled incubators, thanks to its founder's candor about the mistakes that led him to lose nearly $2 million of his own money.
Devices Will Rule
---
People Get Ready For A Whole New Internet
Tens of thousands of mini-devices will remake the Internet and change how we interact with each other.
Approach incubators with caution
Aberdeen Group predicts that only 30 percent of today's Internet incubators will succeed and stay in business as incubators. The other 70 percent will either fail outright or morph into an altogether different business.
Application Service Providers
---
ASPs: The Next Wave Of Outsourced Specialists
ASPs are a requirement for the "office everywhere future," right? Well, there could be stumbling blocks along the way. Chief among them is security. See our Security Resource Center for more information.
Econets gussy up to win back investors
The big three Internet operating companies -- CMGI (Nasdaq: CMGI), Internet Capital Group (Nasdaq: ICGE), and Divine Interventures (Nasdaq: DVIN) -- are undergoing some serious adjustments to look sexier to Wall Street. They're slimming down, seeking surgery to remove unsightly blemishes, and even taking elocution lessons.










Please send all comments to

.
Copyright © 2002, StratVantage Consulting, LLC. All rights reserved.
Breaking the Diamond: The Death of Brand
---
This is a tremendous heresy, I know, but it's possible we'll be seeing the death of the brand concept in the not-so-distant future.
Take a look at why brands exist. You could argue that brands exist primarily to reassure the customer about a variety of relatively objective product parameters: quality, user experience (taste, feel, GUI), price, service, and the like. All these qualities are summed up in the shorthand we know as brand. Brands make us comfortable. They are an easy way for us to assess a product.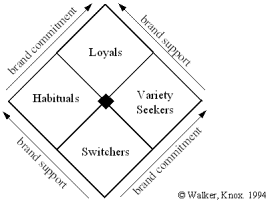 Imagine a day, however, when it is possible to evaluate all these product qualities instantly, objectively, and in real time. Would that not reduce our dependence on brand? And at the same time, would that not reduce the effectiveness of advertising?
More to come on this subject . . .